Emotional Management Method
Emotional Management Method
For more creativity, balance, success and stress-free living!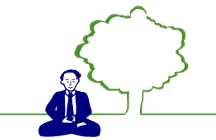 Did you know that…
People who become emotional in negotiations lose their advantage (Source: Wharton Business School)
Stress decreases your ability for creative thinking and can even cause blackouts (Source: various brain research)
By changing your attitude, you can change your thoughts…. And this can be crucial because we have 60,000 thoughts per day and 95% of them are the same as the day before
Emotional Management Method is based on
the newest research in the psychology of emotions, neurobiology, and brain research combined with Buddhist psychology and ancient healing systems.
Body Language courses and Facial Expressions training allow you to identify emotions that are not helpful. EMM helps you to transform these emotions and stress effectively from the inside-out.
Emotional Management Method will help you to:
Reduce your level of stress and increase your energy level to find new inspiration and motivation at work
Get more clarity about your decisions and goals to become more self-confident and achieve what you want
Boost your creativity and effectiveness at work to gain more profit and success
Who Is This For?
Decision makers, Managers, Entrepreneurs who want to reduce stress and increase creativity
Sales people, Negotiators, HR directors and Consultants who want to become more effective and time-efficient
Speakers, coaches and trainers who want to be more charismatic and confident
Any person who would like to find a new perspective in their work, to look at the bigger picture of what they do and have more success in relationships.
References:
Emotional Management Method is tailored version of our "Release Coaching Method" developed in 2009. EMM is tailored to complement our Body Language courses and training. The aim of EMM is to transform the negative emotions you have identified through Body Language signals. EMM has just been released, and this is why the references below are from Release Coaching Method:
Testimonials from our workshops:

Live demo on the radio:

Course program:
Learn EMM for yourself and easily manage your emotions:
Attend our online course by registering below
If you want to use EMM in your coaching practice, you need to:
Attend our online course by registering below
Attend 2 private mentoring sessions (online) of 1h with one of our Certified Trainers
Pass the Certification exam
Sign up today to make use of our launch discount price:
Use EMM for yourself
Learn EMM to use to
manage your own emotions
Online course
Access to all recordings
245 EUR 195 EUR/250 USD
Sign up below
Use EMM in coaching
Certify in EMM to use it to
coach others
Online course
Access to all recordings
+ 2 mentoring sessions
+ certification exam
+ Free EMM Profile
845 EUR 599 EUR/787 USD
Sign up below
Choose one of the following:
I want to use EMM for myself (195 EUR/250 USD)
I want to use EMM in my coaching practice and become certified as an EMM Coach (599 EUR/787 USD)