Emotional Management Book
How to Reduce Stress with the Emotional Management Method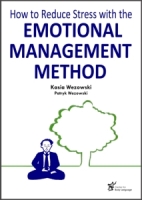 Do you happen to experience stress, annoyance or a lack of energy?
Perhaps you've accumulated so many emotions that you've stopped being able to deal with them. In fact, our natural state is the state of a small child who takes life enthusiastically and resolves all emotional issues in 5 minutes to get back to play quickly and have more fun. As adults, we become more and more looped in different emotions, and thus we can't use our creative potential in our work and everyday life. If you look at successful people, you will discover that they are great masters of their own emotions and still maintain the enthusiasm of a small child.
This book is for those who work under stress and often under huge responsibility for their decisions. Also for those who would like to gain more clarity about what they want, and at the same time without falling into extreme emotions. It's also a book for those who would like to understand their emotions better and use this knowledge to build successful personal and professional relationships.
About the authors:
Patryk Wezowski and Kasia Wezowski - Founders of the Center for Body Language, the World's #1 Body Language Training for Business:
Founders of the #1 Body Language Training for Business
Best Selling Authors of "The Micro Expressions Book for Business" and 2 other books
Celebrity analysis throughout international media (CBS, Fox, Forbes,…)
Creators of the world's first and only Micro Expressions Training with Videos
Founders of the first International Certification standard for Body Language and Micro Expressions Training for Practitioners, Coaches and Trainers
Local Representatives in over 15 countries
Executive Producers of the Award Winning Documentary "Destressed"
International Speakers (speaking at Harvard University, TEDx, Top Conferences...)
Thought Leaders and Developers of a unique Body Language methodology tailored for business people
The Micro Expressions Book for Business
Micro Expressions Book description: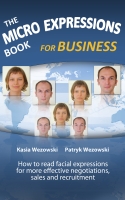 Imagine that from the first moment of a conversation you can see which emotions a person feels. This person's facial expressions will reveal you all the necessary information, whether to sign a contract, to offer a different price or to employ this person in your company. If you know also how to use our BLINK Conversation Technique™, you will be able to adjust your words to what you see and become more successful in closing deals. Now think how much time you will save, time you've spent before on ineffective conversations with people that weren't interested.
Your negotiations, meetings and interviews will become more effective, if you start to explore the knowledge of Micro Expressions. These small facial muscle movements allow you to recognize seven basic emotions: anger, contempt, disgust, happiness, fear, sadness and surprise.
This book on Micro Expressions translates science into the language of entrepreneurs and presents a practical approach how to use body language in business meetings. Being able to read Micro Expressions gives a decisive advantage for everybody involved in sales, recruitment, negotiations, leadership, coaching and training.
>> Click here to read a preview of this book

Reviews by Body Language Experts:
"I love everything about this book. It's compact, enjoyable, and filled with practical workplace applications. If you are in HR, sales, or management, The Micro Expressions Book for Business should be in your library!" - Carol Kinsey Goman, Ph.D., Author, "The Silent Language of Leaders: How Body Language Can Help -- or Hurt -- How You Lead"
"The Micro Expressions Book for Business is a serious and concise primer for anyone who wants to know the truth about reading body language at work. This book has the capacity to raise your emotional intelligence, social skills and the ability to build positive relationships at work. These easy to use techniques, backed by solid scientific research, can help you to quickly recognize the needs of your clients, find alignment in negotiations with vendors and detect the emotional reactions of colleagues with more accuracy. I don't know of a faster way to get this much credible insight into this fascinatingly subtle and enormously powerful area of nonverbal communication." - Mark Bowden, expert in human behavior and author of the Winning Body Language series of books and Tame The Primitive Brain
"This book is a gem. It is practical, easy to follow and gives specific tips for "reading" people. I love the clear guidance offered. I started using the material right away. It is a must-have for sales and marketing professionals, managers, employees and those in romantic relationships who want to understand their partners better." – Beverly Flaxington, bestselling and Gold-award winning author of Understanding Other People: The Five Secrets to Human Behavior
"Patryk and Kasia deliver real value in their work on microexpressions. They have deep insights to share that can be of great benefit in business and in life." - Dr. Rick Kirschner, Author of "How To Click With People"
"I have purchased The Micro Expressions Book for Business by Kasia and Patryk Wezowski. It is well researched and gives hands on practical advice on how to spot and interpret Micro expressions. Each chapter gives an oversight of what will be learned, and at the end points out key points of what to retain. It leads the reader through various business and everyday life scenarios and how to master them better with the knowledge of Micro Expressions. Definitely a MUST read!" - Renate Mousseux M.A. ED, Body Language Expert
"Being able to effectively communicate helps you to succeed in all walks of life. In this informative and easy to read book, the authors show you how to recognize and use micro expressions to improve your communication skills. After reading this book, you will have the tools to develop successful personal and business relationships." - Mark McClish, author of "Don't Be Deceived"